<![if !vml]>
<![endif]>
Born : 13.01.2001.
Titles: Romanian Champion , Estonian Champion, 5 x CAC, 2 x BOB, BOS, rCACIB, CACIB, R++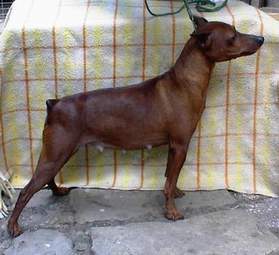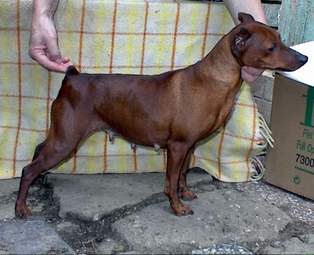 Angie's pedigree:
Reyti Nyiri Ciklon
Minaret Friderikus Ciklon
Akin z Dunajskej Laguny
Budajenoi Vadas Vanda
Jerry Opal de Bodoc
Fenysugar Eddy
Bamby de Zocskar
Flammchen v Rhoenthal
Yank v Cronsbach
Essex v Cronsbach- Jsg, ISPU sg,Bdsg
Peggy v Frauendorf
Assy v Rhoenthal
Jirry v Suedhaeger Rixel
Luzi v Hessischen Kegelspiel-Ost kbsg,Ejsg
 Litters: "O" with Hamster Pukkancs, "V" with Amber Fantastika, "H" with ICh Denwest Chevalier.
 Angie was mated by Denwest Vixen to Impala in 2004 and her litter was born in Finland, in Denwest kennel.
in Finland, at "Denwest" kennel, after she became Estonian Champion!
               
              at 2 month                        with her brother Anthony, at 2 month

                    
                  ...being nice and cute                 ..............and not so nice & cute !!
                           
at 7 month at 1 year